When I did my time log a few weeks ago, one of the first things I realized was that I was spending too much time on social media. The first day I logged, I spent nearly three hours on Facebook and Ravelry! So I immediately cut that back, deciding that I would spend less time on the sites, and stop writing long posts and comments there. The next few days I spent only 30-60 minutes on social media sites, mailing lists, etc.
Predictably, my productivity went up. But not by much. Which I found a bit puzzling: I had gotten 2.5 hours back per day – huge! – but I still wasn't able to get much more done. Why?
XKCD, as usual, has the answer: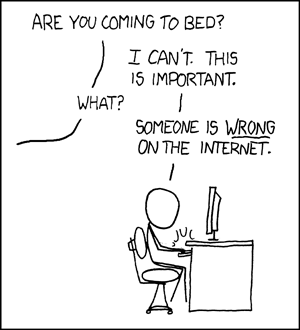 The problem with social media – and all social interaction, for that matter – is that the brain processes events by mulling them over throughout the day, thinking through alternative outcomes, what you could have done better, what you should do in the future, and so on. The stronger your feelings about the event, the more time the brain spends processing them. And humans are wired to care – a lot – about what other humans think. As a result, when you interact with another person, that interaction – and that person – stays in your head for minutes, hours, or days, depending on how upsetting the interaction was.
In-person interaction generally doesn't produce strong emotional responses. That's because people tend to be politer to someone who is standing in front of them, whose emotional distress is apt to be much more obvious (and may result in their punching you in the nose). A person standing in front of you also probably has friends within your social circle who may get pissed if you upset their friend too much. In other words, infuriating someone in the physical world has consequences, so people tend not to do it.
Online social media (not just Facebook, but other forums such as Ravelry, or mailing lists) doesn't have that brake. It's also a continuous conversation. At work, you might go hang out around the water cooler every couple hours on a coffee break. But you don't go to the water cooler every fifteen minutes (unless you want to be fired, that is). With social media, it's easy to flick over and check Facebook or your email every fifteen minutes. That doesn't take more than a couple seconds…but it means that your brain is now processing all those social interactions, and all that new information, all day long. Continuously. And, because people are a lot less polite over the Internet, those social interactions are more likely to be offensive and/or provocative. So they linger longer, and are more disruptive.
So now you're subconsciously carrying on a conversation with at least ten or twenty people in your head, the entire time you're awake. And probably at least a few heated arguments. That produces a lot of mental clutter. It makes it hard to focus on other things.
If you're cleaning the house, no big deal. You don't need your entire brain for that. But creative work requires concentration and a clear head. Writing, in particular, requires internal silence, because you're basically talking to an audience. You can't do that if you have twenty people arguing in your head about something totally irrelevant. (Which is probably the big reason I haven't been writing many blog posts for the last year!)
So I tried an experiment, and spent a few days reading social media only once a day. Wow! Suddenly I was doing a lot more creative work.
And then I went back to reading social media in snatches through the day. And my productivity tanked again. Surprise! I was right.
I don't plan to abandon social media, for a variety of reasons. First, I have a professional interest in social media, particularly Facebook and Ravelry; it's where I expect to "meet" most of my potential students. So I need a social media presence, like it or not.
But there's more to it than that. Social media exists for a reason: it's a great way to keep up to date on what your friends are doing, to interact with friends you don't see every day, and find out about cool stuff from your friends. (I would never have heard about the Kubota exhibit, for example, if a friend in Canada hadn't mentioned it on Facebook.) Plus, since I no longer have coworkers, it gives me a chance to socialize with interesting and/or like-minded people regularly, and I need some of that interaction. So turning off Facebook or Ravelry would be an overreaction (and stupid).
My compromise (at least for now) is to do social media, but only once a day – after the creative part of my day is over, and well before bedtime, so my brain has a few hours to process whatever comes up before bedtime. (And thus, doesn't keep me up at night.)
In the same vein, I've also stopped fiddling with my phone at night. I used to play a relaxing game or two of Scrabble right before bed, just long enough to break off whatever stupid arguments were still bouncing around my head. That rapidly turned into an hour and a half of reading the New York Times, Facebook, Ravelry, and books about dye chemistry, tomato farming, etc. Which produced more mental clutter that kept me from getting to sleep, meaning I lost even more creative time the next morning.
This is not a rant about the evils of social media; social media provides a lot of great benefits, and I intend to keep using it. But I plan to use it more thoughtfully, so I can get the benefits without having other people's chatter drowning out my own voice when I want to create.
Sherlock Holmes, in Sir Arthur Conan Doyle's short story "A Study in Scarlet," says
I consider that a man's brain originally is like a little empty attic, and you have to stock it with such furniture as you choose. A fool takes in all the lumber of every sort that he comes across, so that the knowledge which might be useful to him gets crowded out, or at best is jumbled up with a lot of other things, so that he has a difficulty in laying his hands upon it. Now the skillful workman is very careful indeed as to what he takes into his brain-attic. He will have nothing but the tools which may help him in doing his work, but of these he has a large assortment, and all in the most perfect order.
Holmes was talking about learning facts generally. As an eclectic collector of information, and someone who likes mixing unrelated media, I disagree with him there. But in the hours you spend on creative work, I think he's totally right. Silencing the external chatter, and clearing your mind of everything but the mental tools that foster your creativity, will make you much more joyful and productive in your quest to create.
So that's what I'm doing. I'll keep you posted on the results.